Aktuality | Zelené obce Slovenska
Národný projekt s názvom Podpora biodiverzity prvkami zelenej infraštruktúry v obciach Slovenska - Zelené obce Slovenska je zameraný na zachovanie a obnovu biodiverzity a ekosystémov mimo chránených území. Národný projekt sa zameriava najmä na realizačné opatrenia na úrovni obnovy, budovania a zachovania prírodných a poloprírodných oblastí, ako prvku zelenej infraštruktúry, a to prostredníctvom realizácie vegetačných prvkov. Národným projektom sa prispeje k zlepšeniu stavu kvality životného prostredia, a to prostredníctvom drevinovej revitalizácie existujúcich ekosystémov.
V rámci projektu Zelené obce naša obec Zatín získala podporu vo forme realizácie Vegetačných prvkov na ulici Kostolná, Cintorínska a Hlavná, kde boli vysadených 56 ks dreviny.
A zöld község elnevezésű projekt célja a község általános környezeti állapotának javítása, zöldfelületek bővítése, fejlesztése.
56 kisfa került kiültetésre a Templomsor, Temető és a Főutca mentén.
SAŽP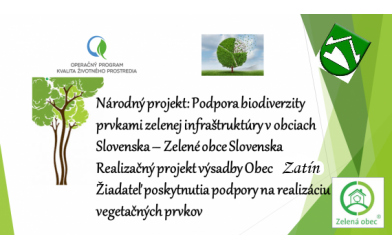 Zoznam aktualít